Sunday, 11 November 2018
Within a month from Hillary's diagnosis with metastatic cholangiocarcinoma, she had made a conscious decision to remain positive and ignore statistics.
I would support this. More on this another time, both the good and the bad.
At the time of Hillary's diagnosis, we didn't have any sort of timeline. We knew that it had the potential to be fast.
Early on, I felt that I needed to be able to emotionally help the kids move forward if Hillary died. This was on both of our minds heavily in the first few days and weeks after her diagnosis. We discussed strategy and tactics and we agreed on a path.
Paige was three and utterly Hillary's. It had only been fairly recently that she would suffer me putting her to bed. And often that led to screams. Isaac was happy with both of us, but would definitely go to Hillary first with certain things.
I immediately started a campaign at home to begin doing some of the things that were pure Hillary interventions. I know it broke Hillary's heart at times but she also understood it to be something that I needed to do and the kids would need eventually.
She had a year to see me slowly transition from how we had parented into... something different. We both still supported our kids mentally, emotionally, and physically. We still balanced decisions. We still disagreed and came to solutions we were both happy with. She would do the bedtime stories the vast majority of the time until she went into hospital for the last time.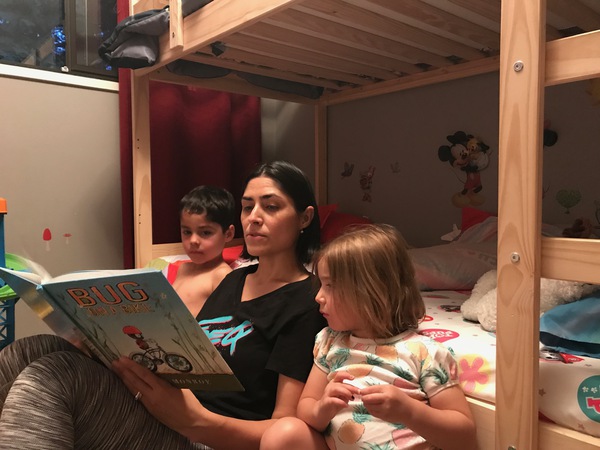 Hillary's evening routine, save for the couple of months where she was so worn down from the chemotherapy that she was going to bed before the kids. (~January - March 2018)
But I was taking over more of the emotional support. Both kids slowly began to rely on me more for that aspect of parenting.
I had some successes and some failures as you would expect. I'll talk about a few of them over time.
But whatever the hell I was doing was working. I believe that one of the major reasons that Hillary was able to really focus on being positive and enjoy the here and now was that she wasn't scared for her kids' future. I mean she was, but whatever I was doing gave Hillary some level of comfort and confidence that I could do it and would do a good job.
She wasn't terrified that I would screw it up and that I think gave her a large measure of peace as she enjoyed the kids in the moment as much as she could.
I think that was a gift to her. Probably my last gift. In life, hopefully one of the most important.