Thursday, 24 January 2019
At this point, I don't remember if the conversation was via text, phone or in person. While I have all of our archived messages after about 2014, assuming I trust Apple's cloud services, searching through them is a nightmare.
But I digress. It was sometime in the first half of 2017.
"Do you think we needed a new tent?"
"Not really. We're all still pretty small and eventually? Sure. Not yet. Wait. Needed?"
"Too bad! I was at Costco today and..."
There had been some Coleman 51 person monstrosity on sale for something like $150 so she had bought it.
I exaggerate, it could only comfortably sleep a dozen.
Anyway, Hillary knew we had a couple of camping trips coming up that summer and she was tired of doing things like getting dressed without being able to stand up. Also, the kids were getting bigger and having us not crammed together like sardines would be appealing.
The first time we used it was at Golden Ears on a trip with the Ahokas'. It took us a non trivial amount of time and a reasonable amount of cursing to get it setup. Alongside the polyester palaces our camping companions brought to bear, ours seemed to fit right in.
I remember getting immense enjoyment out of making jokes and witty remarks about the sheer enormity of the tent we had. Hillary tolerated them, by which I mean I made her laugh a bunch, but she got mildly defensive so I moved on to other material.
Hillary got immense enjoyment out of the fact that both of us could stand up inside. The kids were just happy to have their own bedroom in the east wing.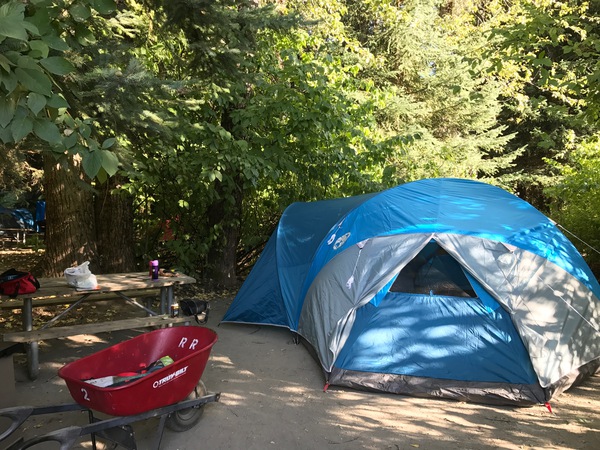 At the Riverside Resort in Whister. I mean, it fills the site. Picnic table for scale.
There was definitely a fair bit of swearing during setup. It was significantly more complicated than the little tent but doable. The engineer read the instructions and I randomly propped things up. We got it done.
Having done it twice now with Hillary, I'm not entirely sure one person can set it up. I may attempt to use it next year as it really is a nice tent. The size is handy if it happens to be a rainy camp weekend. Regardless, it wasn't used in 2018. The one camping trip I did was with Paige and we used Hillary's old three person tent.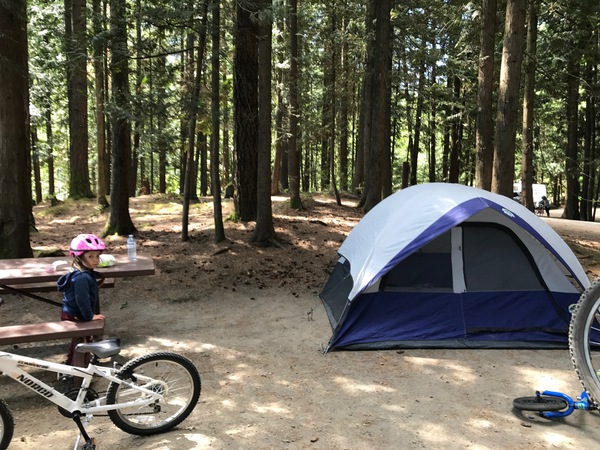 Hillary's tent. Mine now I guess. Picnic table for scale.
That tent has been around. It's still going strong as well. It was a fixture in our relationship.
I slept in this for the first time at the 24 Hours of Adrenaline at Hardwood Hills in August 2004. At the time of this writing, the last time I slept in it was with Paige in Whistler in June of 2018. This tent was worth every penny she or whomever bought it for her paid.
And for a thing that was part of so many good memories, I can't imagine the total number of times we used the small tent to be more than a couple dozen. Perhaps thirty or forty nights over those fourteen years. Generously, that was 0.8% of the time we were together. Hm. Looking at it that way, that's not bad. We camped for nearly one percent of our relationship. That's significant I think.
And that doesn't include the Cross Canada trip. If that counted as camping, I guess we camped for closer to 2% of our time we together.
But I digress.
I'm not sentimental about too many physical things. I am about our various homes. Tents fall dangerously close to the idea of a home for me. Many times we'd be out hiking or riding and that's exactly how I'd phrase it. "Okay, let's go home." Referring to our tent.
Home was where Hillary was.