Thursday, 28 February 2019
So it goes.
I'm a week away from five months since Hillary died. Roughly a half year from the point where, in hindsight, things were getting really bad. Today hasn't been great.
I don't have a good, 'on this day in 20xx' for Hillary and I, but I do have a good, 'Yesterday, in 2010' (according to the date stamps on my pictures, Wikipedia informs me that it's actually 'Two days ago in 2010').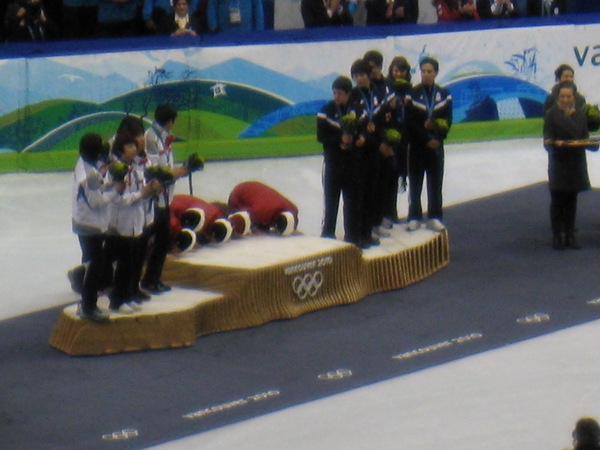 2010 in Vancouver was a good year.
On February 26th, 2010 Hillary and I were at the Pacific Coliseum. We had tickets for a night of short track speed skating at the Vancouver Olympics. To our good fortune, there were a couple of fairly important races happening that night.
We got down there early. I think we actually got pretty good parking. That said though, I remember being in a long lineup and waiting to get in. I'm pretty sure that was because we got there early to make sure we could park. Regardless, we got in and got to our seats.
We had nosebleed seats. I mean, we were literally within a row or two of the furthest up we could go in the building. Fortunately though, it wasn't the largest arena in Vancouver and frankly, for the races we were watching, a top down view wasn't bad at all.
So what did we see? Charles Hamelin race the 500m finals and win. That was super exciting. But for me, the one that really baked itself into my memory banks was the men's 5000m relay final.
I always loved relays when I swam. Something about a team aspect to an individual sport was always something I appreciated.
It was awesome. Easily the best sporting event I've ever gone to. It was hellishly expensive as well. I don't remember what the cost for those tickets were, but it had to be close to $200 each. It was definitely worth it though.