Tuesday, 23 April 2019
The last of the big surprises was in November 2012. As mentioned before, kids entering the picture made these larger things more logistically complicated.
Isaac was approaching a year old but was still a decent traveller. I decided that we should take a short vacation to Tofino. I don't actually remember making this decision or why I picked this location. I can speculate though.
I did what I did. I booked a reservation on a ferry. I found a resort called the Ocean Village which had small cabins and cottages. I booked the upper floor of one for a couple of nights. Then I just had the small task of packing.
Packing wasn't typically my job. I could do it for myself, but usually forgot something. I was not at all confident in packing for Hillary. I was actually pretty sure I could get Isaac's stuff together, but we'd had enough short trips already that I knew that what I considered correct for Isaac did not precisely line up with what Hillary did. I packed far too light.
Regardless, I got most of the way through packing for the three of us, then I realized I might be in over my head. It was November and while the weather reports were for the mildly stormy cold and rain I was hoping for, packing warm gear for Hillary was tough.
I had a difficult debate. She was still, as far as I could tell, oblivious to anything that might be coming up. But I really did not want to get to a small town missing something that was fairly critical to her enjoyment.
So a couple of days before, I broke the news.
"So let's say that theoretically we had to go somewhere. I've mostly packed for all of us, but I'd appreciate it if you could check my work."
"What? We're going somewhere? Where? I can't pack unless I know that. What will the weather be like? What will we be doing? How long?"
"The weather will be BC autumn. A couple of days. Doing? Casual things. Maybe some outdoors. Nothing fancy, we'll have Isaac with us."
"I can't do that, that's impossible."
Shrug.
So she did. I don't know how much she changed. I suspect we brought far more diapers than I had packed.
So Friday morning, I woke up and didn't go to work. We got ourselves ready, threw the bags in the car and headed off. As we headed across the Second Narrows Bridge, Hillary started guessing again. Assuming we were going to Whistler or some other destination like that.
Then we turned off the highway to the ferry. "We're going to the island? Nanaimo again?"
I didn't respond. Sometime in the following seconds or minutes, she hit upon the right answer. I laughed.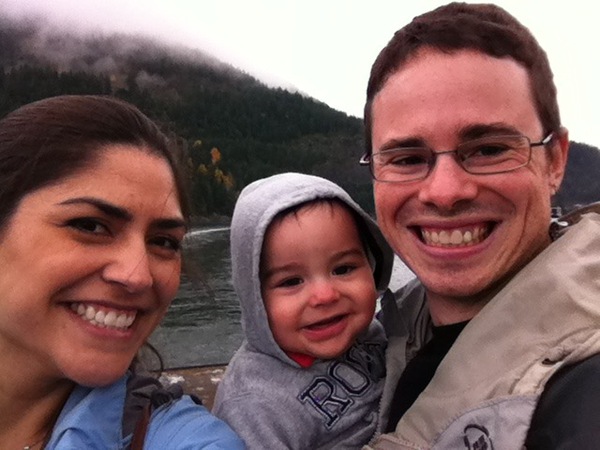 A few minutes out of Horseshoe Bay on the car deck.
The cottage was cozy and beautiful. It had a great view of the ocean. The weather wasn't bad. It was windy and rainy the evening we got there but was overcast and drizzly for the rest of the time. We did not get a big windstorm, but we also were able to walk around a fair bit, both on the beach and around the town.
We did not get tacos from Tacofino. I was disappointed. Hillary liked our tacos, but was ambivalent about other folks'.
It was beautiful and fun and Isaac wasn't a problem to travel with. At least, I barely remember him being there, which is about as good as you can ask for from an 11 month old.
We never went back. Travel time from Burnaby was pretty long with small kids. Like many of these one time things, we wanted to go back sometime. Probably without the kids for a (very) long weekend getaway sometime. Eventually with them on some multi day camping driving tour.
This was an important trip for Hillary. I don't know now exactly how she looked back on it other than I know it was positively. Of the things that made her 10th anniversary list thing, it was the only event item that happened in our time after kids. Though I can't read too much into that as that was dedicated to our relationship and notably not about the kids.