Wednesday, 19 June 2019
Whistler is pretty great. I mean, it's touristy and busy and even more ludicrously expensive than it used to be. But it's those things for a reason. If you are into outdoor activities that are best done on a mountain or in the woods, Whistler is a phenomenal place to be.
I went a number of times in the summer during the late 80's and early 90's with my family. I think everyone from university that I met that eventually visited out here I dragged up there at least once.
Later, it became one of the go-to easy getaways for Hillary and I.
We definitely had two of our anniversary getaways in Whistler. We might have had three, but photographic documentation of those is somewhat lacking. All in all, we went at least once every year after we got married save for 2018. Before that, we'd probably gone two or three times.
All this to say, I loved the town. Hillary, perhaps not quite as much as me, but she certainly appreciated many aspects of it. One of which was the fact that I loved being up there that much. But there were more. The Sea to Sky Highway was easily her favourite drive. The dozens of kilometres of the paved Valley Trail provided a relaxing cycling option. The food was good almost everywhere we ever went. There was an Old Spaghetti Factory which, while perhaps not the finest of dining that Whistler offered was a guilty pleasure of hers.
We stayed at the Tantalus Lodge. We camped. We stayed at a friend's condo. We had a night overlooking the village in a loft suite that was incredibly hot where the bed was and incredibly cold in the kitchen downstairs. We never got around to staying in one of the super fancy places. We rented chalets for Thanksgiving weekend a number of times.
It was the place we retreated to a few days after Hillary's diagnosis to get away and reflect and be together in our shock.
In a possibly poor life choice, the kids and I ended up there last weekend. This would have been the third or fourth anniversary weekend I spent in Whistler. While I was mostly so busy that I didn't think about that much, during downtimes it hit me pretty hard. The activities were good. The mosquitos were annoying. The campsite will be better in a few more years when I can let the kids go further afield unsupervised.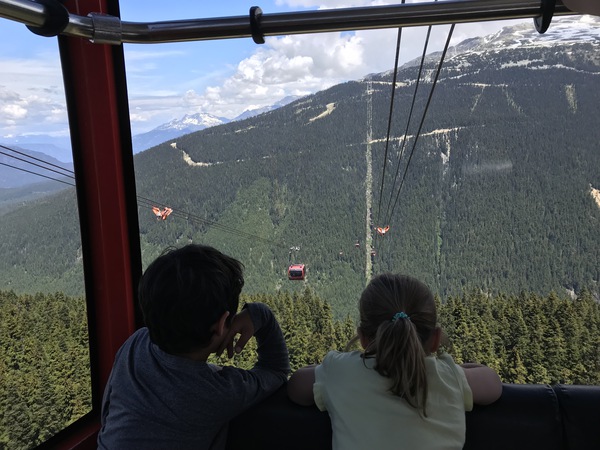 On the Peak 2 Peak thing, headed over to Blackcomb. Most of the Whistler hiking trails up top were closed due to snow.
Sunday was awesome.
The core reason for going to Whistler this time was so I could take Isaac downhill mountain biking. I am fairly familiar with the cross country cycling trails in Whistler, but the mountain I hadn't been on since the early 2000's. I had no idea what the trails looked like, where anything was, how to load the bikes on the chairlift, and the list goes on from there.
Mark is very familiar with that hill and has lots of experience there. So it came about that this weekend would be a good one for him to show us the ropes.
Isaac ended up doing five runs and tackled a couple of blue trails towards the end. (B-line, Longhorn and Devil's Club if you want to find videos). I did a final run with Mark from the top of the Garbanzo Zone, saw a bear and ended with a fantastic ride all the way down. That run was... significantly faster than following the kids as you might imagine.
Not much faster though. I didn't break my wrist this time.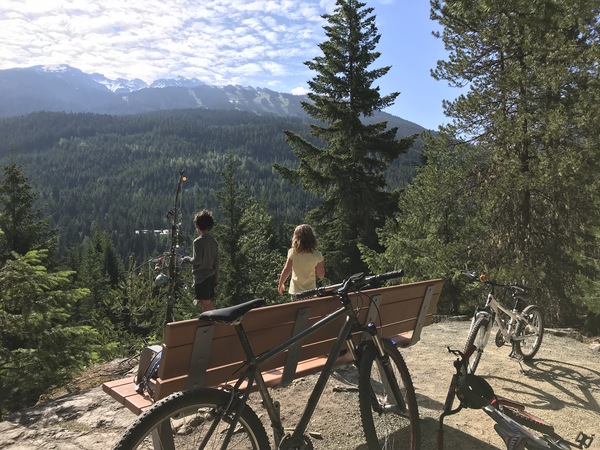 Resting and snacking at the top of Tin Pants, one of the better 'young kid friendly cross country' trails in the Lost Lake area. The climb is long, but it's rarely steep which also makes the downhill part less stressful on everyone.