Wednesday, 31 October 2018
So while the exact date is lost, we officially became a couple sometime in August 2004.
Hillary had a long planned trip to Las Vegas with some of her co-workers for October of that year. Unfortunately, due to life, this trip fell through and Hillary was in the position of having already booked some time off work and nowhere really to go.
I was already planning to go back to Vancouver for a week to visit family around Thanksgiving, so I suggested she join me.
I suggested to my parents that there may be a last minute addition as my friend Hillary had a vacation fall apart and was looking to go somewhere. This was no problem.
Hillary had never been that far west and hadn't seen real mountains before, so I figured we'd head through Whistler and maybe camp at a natural hot springs I knew about. Other than that, we'd do the touristy Greater Vancouver things and generally just hang out.
So we flew out.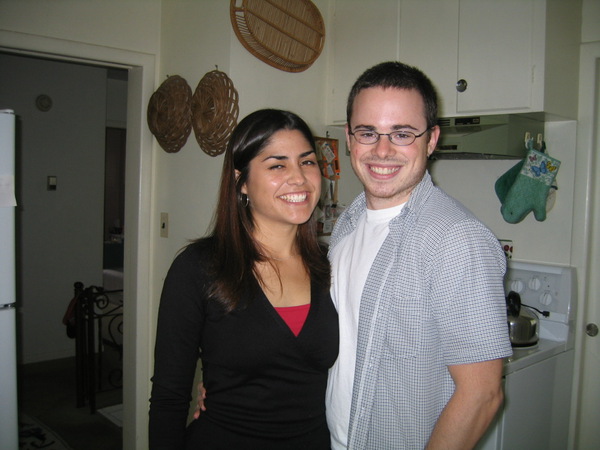 Not our finest picture. In my parent's kitchen.
This was early in the relationship and a pretty formative vacation. We would travel from Ontario to BC a number of times, but this trip we would reference far more than any of the others. There will be posts about specific parts of the trip over time.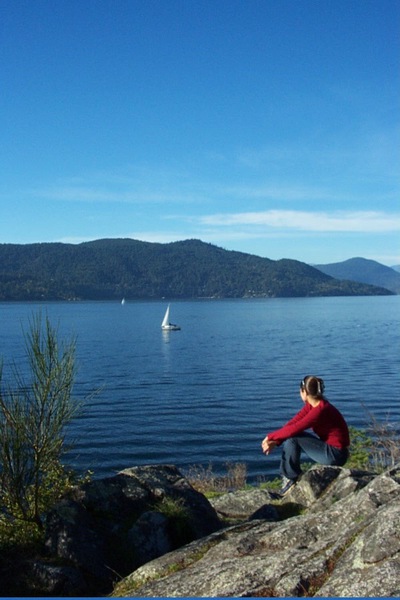 Whytecliff Park in West Vancouver. Resting after some scrambling over the rocks.
The part that I wanted to mention here was more from the perspective of my parents. Evidently I wasn't overly clear about the status of the 'friendship' between Hillary and myself.
Hillary was nervous as she had just met my parents and was not yet overly comfortable with physical signs of affection around them. We were provided separate bedrooms and neither of us had a problem with that or brought it up.
A couple of nights after we got there, we rented a movie. Mom came downstairs while we were watching it cuddled up on the couch.
The next morning, I got up first and came upstairs. Mom, always the early riser, brought up something to the effect of, "So I didn't realize she was a special friend."