Tuesday, 11 December 2018
Hillary and I weren't big hikers. We liked the outdoors. We enjoyed getting out for walks and hikes, but it wasn't a focus of ours. It was more aspirational than anything. That said, we did summit one real mountain together.
On our Rocky Mountain Trip in 2006, we had four nights and five days in the Banff area. Two nights camping at Tunnel Mountain just outside of the town of Banff. One night camping at Lake Louise. Yes, the red sweatshirt is from that day. Then one night in luxury at the Storm Mountain Lodge before continuing our circle route.
We did our research and thought the hike up Fairview Mountain from Lake Louise would be doable and give us some spectacular views.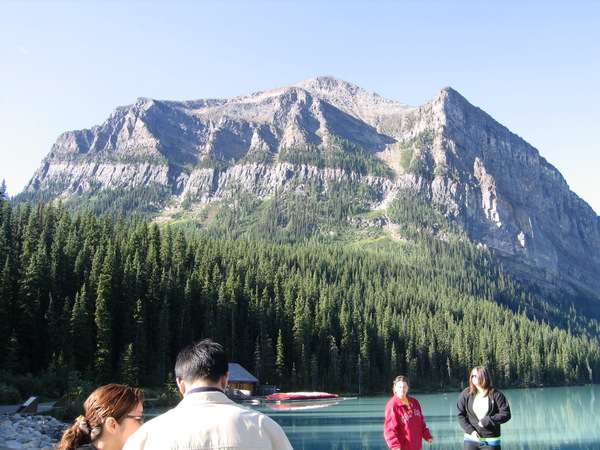 That's Fairview Mountain from Lake Louise.
The hike isn't overly long at about 10km if memory serves. It does gain about 1km of elevation though, so it's not particularly easy. But more importantly from my perspective at least, it ended on top of a mountain. That was something neither of us had ever done before. I probably pitched it, but Hillary didn't need any convincing.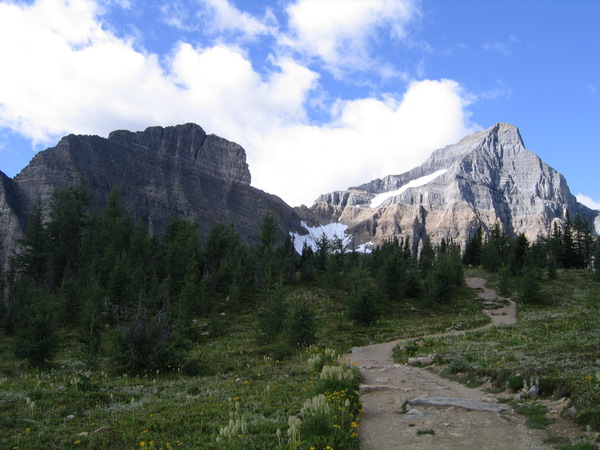 Getting closer to the treeline. They don't grow very large up here.
You go up a trail until you get about 600m above where you started. The last 1.5km or so of 'trail' gains the remaining 400m. This part of the hike is over loose scree which is exciting.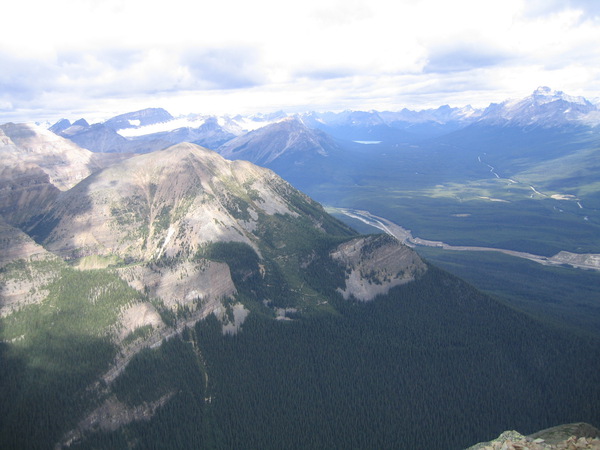 You get a long ways up on this hike. The views in all directions are just unreal.
We were fit, it wasn't technically challenging, and after a couple of hours of hiking, we made it to the top.
The summit is listed at 2744m, so that's high enough we were both feeling the thinner air. Me worse than Hillary of course, her natural hematocrit was high to say the least. She certainly noticed it and complained about it though.
We technically went off the trail a bit on the descent, but there are no trees and you can see the trail beneath you, so getting lost isn't an issue. It did get a bit more difficult for a spell though. It was my fault.
There isn't a lot more to say. This was another one of our trips that had numerous small things happen that we would talk about and look back at fondly. In particular we always wanted to go back to Storm Mountain Lodge. Hillary slung some impressive tarp canopies in multiple campsites. I might talk about those sometime.
It was a good trip. We climbed a mountain.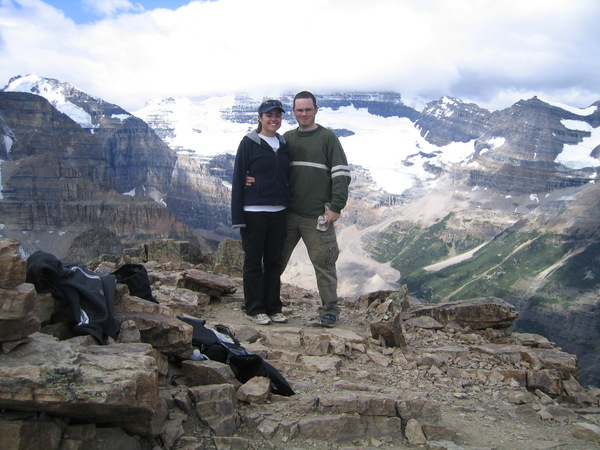 The picture of just Hillary on the summit is better than this one. But we both made it. Not that there was a real question or anything. I dunno. We were together.