Saturday, 26 January 2019
I'm at something like ninety five days of doing this daily. I don't think I should break that streak now. That said, it's 9:30 in the evening and my internal clock is somewhat screwed up. Forgive me if this isn't super coherent.
I grew up in the Greater Vancouver area. Snow was not something we could rely on and was a thing to be celebrated when it arrived. Ten years in Ottawa didn't really dim that view overly much.
Hillary grew up outside of Kingston and snow was something to be tolerated. She could appreciate the beauty of a big snowfall but largely considered it a part of the environment that needed to be worked around.
So at least once per year on a snowy evening, it would fall to me to talk Hillary into going on a walk around in the snow. This became more rare once we moved back to Vancouver. We had a couple of years in there where we got no snow at all.
Fortunately, the last two winters provided a decent amount of snow and we got a few in. Some of which were just Hillary humouring me, some of which we both enjoyed. Of course, in the last two years, we had the kids accompanying us as well.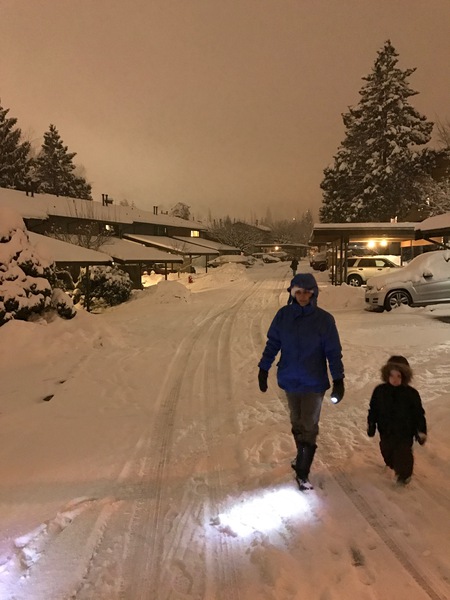 Heading out on a family snow walk in 2017.
It's snowing right now.
I'm going to go for a walk out back before bed.