Tuesday, 04 June 2019
It's going to be a busy month. If I'm calculating things out correctly, of the five weekends this June, we were/will be booked for four of them doing various things. I think that's good.
Last weekend included a Granville Island trip, the kids' first triathlon, a BBQ and the Sperling Fun Fair. I made it to Monday and direly needed a day off. Alas, that is not quite how things work. Fortunately I was able to actually get my meal plan done on Sunday so I won't be totally at a loss each evening.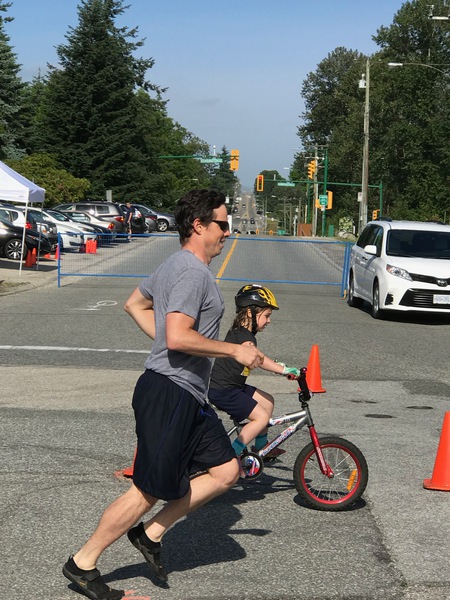 The four year olds needed an escort during their race. Paige is a faster bike rider than I am runner.
The triathlon went fairly well. Paige finished and then wondered if she could do it again right away. I had to tell her that she needed to wait a year. Isaac sprinted the swim and blew up almost immediately. He ended up skipping a lap of the run due to some misdirection on course. Ah well.
Ten days today until my anniversary. Three days until eight months.
Then, in no time at all, school will be over for the year. Isaac will be done with Grade 1 and Paige will be into her final couple of months of daycare.