Monday, 29 July 2019
The main highway we took through BC on the Cross Canada ride was Highway 3, also known as the Crowsnest Highway. We chose that route for various reasons, only really diverging from it to avoid the Kootnay Pass and leaving it for good after Cranbrook.
In later years, Hillary and I drove that highway to and from the Okanagan a couple of times and in 2018 drove it westward from Cranbrook after Amanda's wedding. A few days ago was the first time I had driven the highway since Hillary died. It was also the first time I had driven Highway 3 eastward past Osoyoos since we had ridden it.
This made it a far harder drive than I had expected it would be.
A few parts stood out.
Seeing the Anarchist Summit sign from the same side we rode past it. I could almost see her in the pose she struck when I took that picture underneath it. The final descent into Grand Forks when Hillary dropped Tanya and I. Seeing various vistas and having those spur my memories of things we talked about on the ride as we came across them.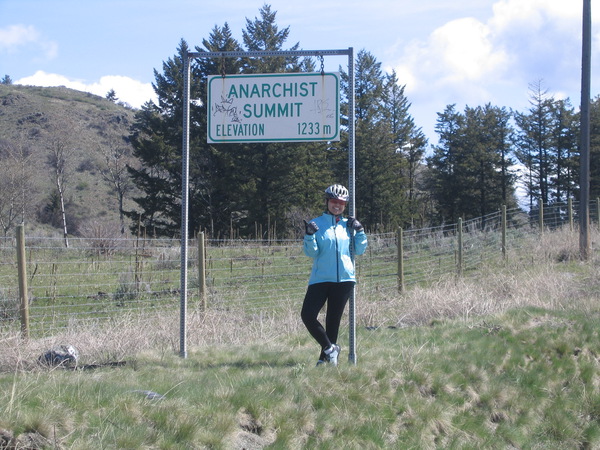 Prior to Wednesday, this was the last time I had seen this sign from this direction.
So the drive was rough.
I think I'm in a phase that I can loosely describe as acceptance, but not happy about it. The thoughts that came up at various times during the week were that Hillary would have enjoyed this or that. Not so much that I purely wished she was still here. I mean, I do, don't get me wrong. I'm just referring to the way my inner dialog spoke about these things.