Tuesday, 27 November 2018
When Hillary was diagnosed with metastatic cholangiocarcinoma, we knew the prognosis was pretty grim. I've mentioned before that Hillary chose to ignore statistics and remain positive.
Around this time, as it had suddenly become super relevant, I talked to her about my philosophy regarding last things. Not so much as I wanted her to think about it (unless she did), but that I would be thinking about it.
I told her in no uncertain terms that I needed to go on a last bike ride with her. The tumors in her liver were large and caused some discomfort when hunched over a bike so I knew we should do it sooner rather than later. I also knew it would be good to have it behind me. If another ride happened, that would be great, but at least I would know that I had had this one.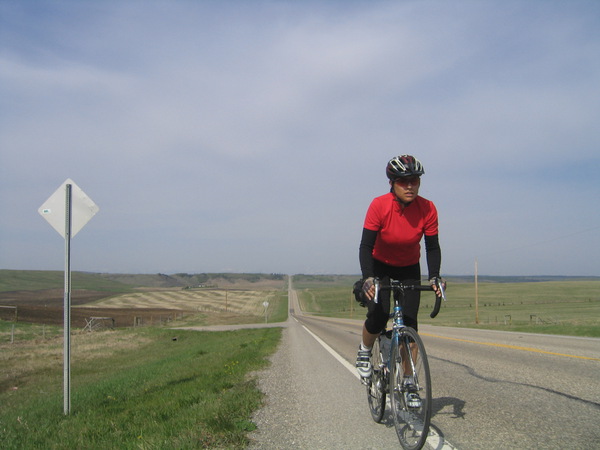 This was not from our second last ride, this was May 16, 2007. It was climbing up a rolling hill somewhere in the prairies during our Cross Canada trip. It's also possibly the best on bike picture of Hillary I have.
So we did.
The kids were taken care of. I tossed the bikes on the rack on our car and we drove over to Argue Street in Port Coquitlam. This was the closest easy parking lot near the Traboulay PoCo Trail, which is a great mostly gravel loop around the city.
We started riding. It was a beautiful, brisk fall day. September 28, 2017.
No more than ten minutes into the ride, we came around a corner and a greyish cat that was clearly far too big with a striped tail padded along the trail ahead of us.
We stopped.
Hillary: "What was that?"
Me: "That wasn't a housecat."
"Was that a cougar?"
"No, too small, maybe a lynx or bobcat?"
"We're turning around now."
We debated a bit at this point. I figured the cat would head off into the bushes at some point and was pretty sure it wasn't a danger to us on a fairly well trafficked trail.
Hillary, however, was spooked and we turned around. I think we covered about 7km. I made it clear that this would not, in fact, count as our last ride and we'd attempt another one soon.
We had a last bike ride about two weeks later and it was far better.