Saturday, 05 January 2019
I love going for walks in the rain. Not all the time, but on those days when you just get drenched and little creeks are everywhere. There is something soothing to me about the sound of rain on the trees and ground. The occasional chill and annoyance of getting out of wet gear was worth this.
Hillary did not like being wet and cold. That never really changed. What did change over the years of living in the Lower Mainland was that she began to tolerate the wet a little bit more.
I mean, if you're going to live here and actually get outside then for several months of the year you need to be prepared to get wet.
Once the kids were in the picture, it became a thing. The rain walk. Defined as a walk or hike that happened in the rain. We have lots of little trails and loops nearby that are particularly great on rainy days.
Woodhaven swamp was a remote destination that we'd do at least a dozen times once Isaac was able to walk a kilometre or so. Mostly, though, we'd walk up one of the trails that goes alongside Stoney Creek.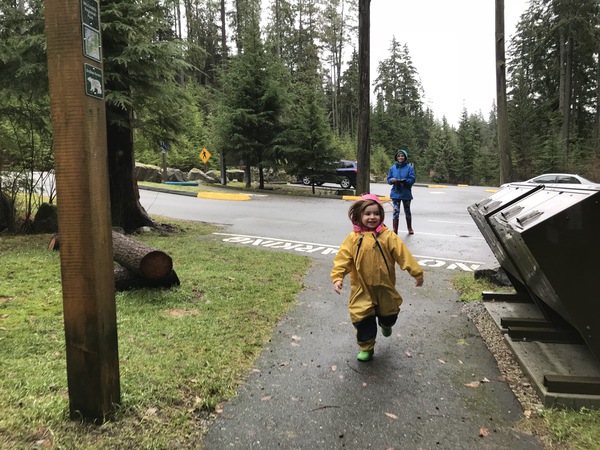 Paige is ready to go for this rain walk! January 2018, this was Hillary's last hike at Woodhaven Swamp.
The mud is deep, the creeks are raging, and for a little bit it can feel like you're not in the middle of the city. Pretty much everything is drowned out by the sounds of the rushing water.
We dig little grooves in the mud to drain puddles into Stoney Creek. If you get a particularly good one, you end up making a tiny new set of rapids or waterfalls.
The rain walk we did a couple of days ago was one that Hillary would have enjoyed. Most of the walk was between a pair of downpours and so we didn't get exceedingly wet. But there were some great puddles and new creeks down in the ravine that needed exploring.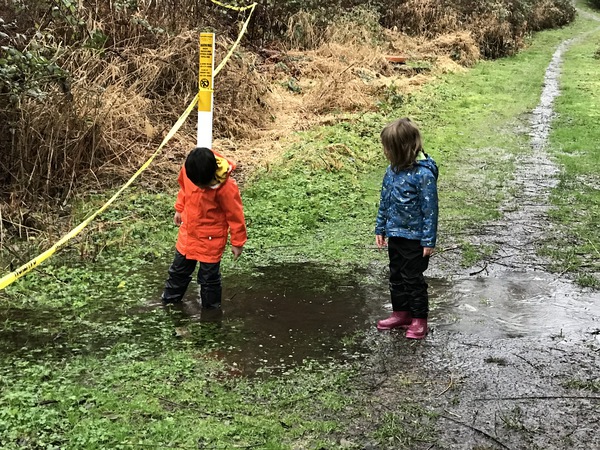 Just how deep is that puddle?