Tuesday, 12 February 2019
The kids were getting older and we were starting to play more board games with them. I think Hillary was looking forward to this more than I was. Either way, she played far more games with them in 2017 and 2018 than I did. Isaac and her played many games of the classic Dungeon. Paige played a number of games, but the one that she preferred in mid 2018 was Spot It.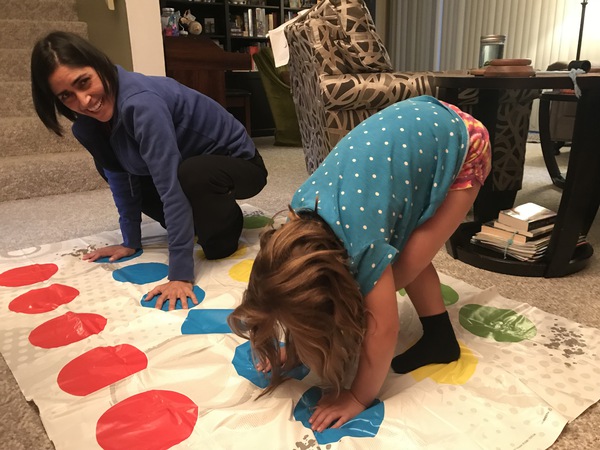 For posterity, the last game of Twister as well. September 13, 2018.
The other part of this that needs to be mentioned is that once Hillary was in the palliative ward I'd try to bring the kids in for a short visit most days. It wasn't a great place for kids and neither Hillary nor I wanted them to force them to spend a lot of time there.
Isaac was much more reticent about going. Paige was quite comfortable. On October 4, Hillary had indicated that if the kids weren't interested in coming in, that would be fine. I didn't have to offer it to them.
The kids hadn't gone to school that day. Paige, later in the day, suggested that she go and visit mommy that evening. I let her know that was a good idea and I told Isaac that Paige wanted to go and asked if he wanted to join us. He did not.
Isaac had soccer practice that evening so I arranged to have someone else take him and Paige and I headed in. I brought some books, Spot It and some other small things. I knew Hillary might sleep through most of the visit so I wanted to make sure we had things to do to just be around her.
We got there and Paige climbed right up into the hospital bed beside Hillary. We talked a bit. Hillary asked Paige about her day. I mostly stayed silent and let the two of them interact. Paige gently cuddled.
After a bit I pulled the tray over and took out the game. The three of us played a hand or two. Then Hillary closed her eyes. She lay there, eyes closed with a smile on her face, as Paige and I chatted and played another few games.
I think we stayed for a half hour or so.
Paige was willing to stay longer but Hillary was definitely drifting in and out of sleep. We said our goodbyes. Kissed her goodnight and I took Paige home.
I recorded the Paige shake shake video on the walk out to the elevator that evening.