Sunday, 24 February 2019
It seems we're closing in on the point where I'm questioning how much of the minutia of my life with Hillary makes for good reading.
Or writing for that matter.
That's phrased poorly. There are far more things that weren't overly important, but are worth putting on the record outside of my brain. Today wasn't a day where I could really focus on those though.
Earlier? We did the Jug Island hike out of Belcarra this afternoon.
In October of 2013, I read about this hike and wondered if it was a thing we could do. The total distance didn't seem too daunting and Isaac definitely liked hiking. We got to the top of the first major hill and he made it clear, in his pre-talking way, that he was done for the day. We turned around and descended. Hillary and I never went back.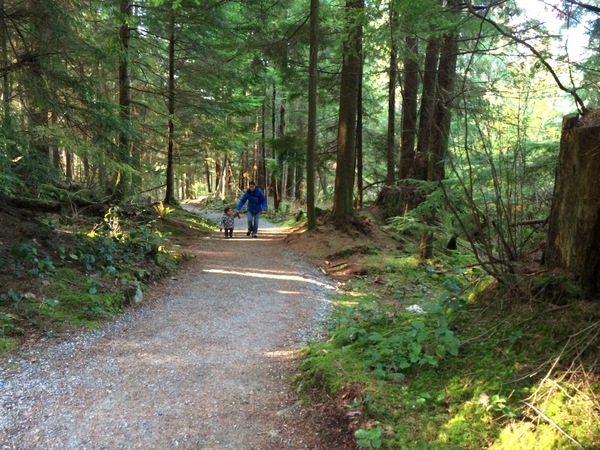 Hillary and Isaac, about fifty metres of the turn around point from that hike in 2013.
We discovered Woodhaven Swamp not long after this and that became our go to kid hike.
I told the kids this story as we drove to the trailhead. For the first fifteen minutes of the hike as we climbed that first hill, the conversation was fairly predictable.
"Did we get to the spot where Isaac stopped?"
"Am I on a trail that I've never been on before?"
"Is this where Isaac stopped?"
"Tell me when we get to the place where I wanted to turn around!"
And so on.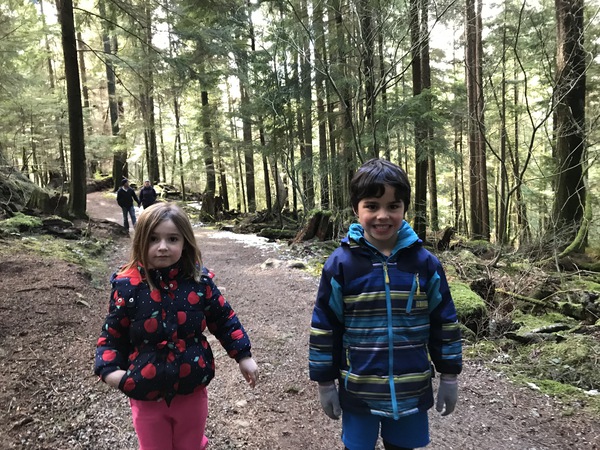 If the GPS on my phone is to be believed, taken within forty metres of that other picture.
Having done the rest of that hike now, it's probably good we turned around when we did. If we had attempted this with Paige at the age Isaac was in October 2013, we would have brought the carrier. With Isaac though? We brought snacks and figured we'd just go as far as we could.
Turns out you get better at this parenting thing as you gain experience.
Then? Minecraft while we waited for the pizza to arrive this evening. I had a dinner plan, but I got lazy. I steamed some veggies to go with pizza from a new place. It was good.
So the three of us were running around in our main world. I was lost, Isaac and Paige were feeding the animals. Paige was playing on Hillary's phone as that is her ideal device for Minecraft at this point in time.
Paige and Isaac killing themselves laughing as, in game, I'm in the bed for the night and they are jumping up and down repeatedly on said bed. This action is happening on the big screen while they mash buttons on their own devices.
Now? The kids are in bed. The sauce from the planned dinner this evening is cooling and I'll put it in the fridge so I can more quickly construct dinner tomorrow or Tuesday.