Friday, 15 March 2019
The last real outdoor adventure the four of us went on was a canoe and hike trip to Widgeon Falls by Pitt Lake in June 2017.
Hillary and I weren't actually super adventurous. Generally speaking, we were happier to do smaller adventures. We'd occasionally go to new places and do new things. Usually, however, the comfort of a familiar trail was more appealing than going somewhere we hadn't yet explored.
I've mentioned in passing that canoes were the human powered water vehicle of choice for Hillary. A year before I had gone on a canoe day trip from Pitt Lake up the Widgeon Creek waterway. It was beautiful, relatively close and I wanted to go back.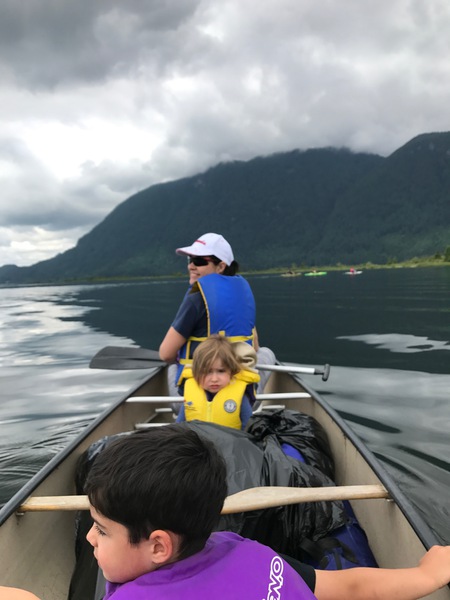 Crossing the Pitt River before getting into the smaller Widgeon Creek.
By June 2017, we had taken the kids in a canoe at Deer Lake and it had gone well. They could behave themselves and we were ready to try them out on a 'real' trip. I pitched this one as I was familiar with the area and knew the paddling time would be about an hour one way.
We got there, rented a canoe, loaded up and headed out.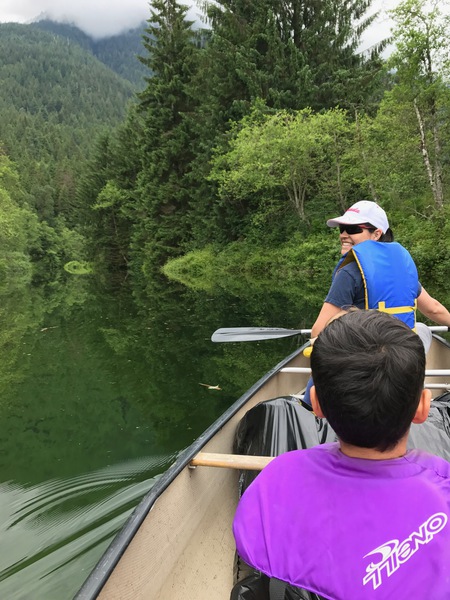 Paddling up Widgeon Creek.
Despite the kids looking hard, we saw no bears. We did see eagles, fish and lots of waterfowl. The kids snacked the entire way to the place where we pulled out the canoe to start the hike to Widgeon Falls.
That day was, according to the weather reports, supposed to be sunny and hot. We brought our tent so we'd have some shade if we needed it. The day ended up overcast and warm, but if a tent is available, you can't not use it if kids are around.
We set it up and made lunch there.
Then we hiked. I think it was about 3km one way. It's a pretty easy hike, very similar to the Lower Falls trail at Golden Ears.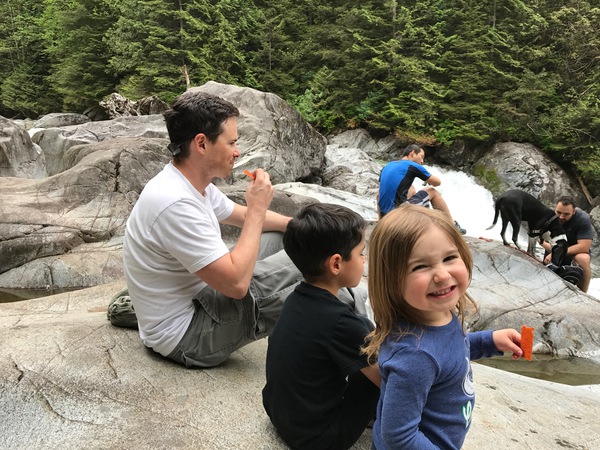 Having a snack at the falls.
We hung out at the falls for a half hour or so. Climbing over the rocks, having more snacks and generally just enjoying being there. Then as the day was wearing on, we started the hike back.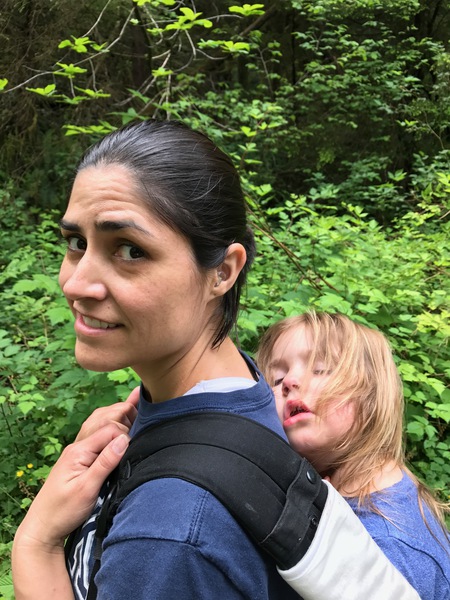 Paige's return hike was fairly restful. Both kids fell asleep on the car ride home as well. They were awake and enjoyed the canoe trip back though.
By about 5pm, we had packed up our stuff and were back in the canoe. The trip back was a bit quicker as we were going with the current and the kids again watched closely for bears.
Also, there were a handful of other canoes headed back at the same time we were and Hillary wanted to beat them all. We did. The kids thought that was great.
All around, this was a success. The kids were getting old enough to start doing some more elaborate hikes and outdoor trips. This was a great test of that and we all enjoyed ourselves.
You could make a very strong argument that this was our first big family outdoor adventure. It was definitely the last one we did with the four of us. I am nearly two years out from that trip and parts of it are still vivid in my memories. Certainly more so than any other single hike or walk Hillary and I did with the kids.