Monday, 13 May 2019
After several months of asking and delayed promises, I was finally able to deliver and take the kids camping this past weekend. As the weather was nice and it was Mother's Day weekend, most of the reservable sites in the closest parks to us were full when I went online. I looked a bit further afield and found a couple of spots that were open in Chilliwack Lake Provincial Park and booked one for a night.
I did debate booking two nights. It was a gamble though, I had never stayed at this park and if there wasn't enough things to keep the kids busy, a two day stay could have gotten painful. So I elected to do a single night as a trial run there.
We'll be going back.
I took the giant tent. I also brought the small one as a backup if it wasn't possible to setup. Fortunately, with both of the kids helping we were able to do it. If it had just been me and Isaac, it would not have gone up. In hindsight, I think the largest problems Hillary and I had in setting it up those two times in 2017 was that we didn't enlist Isaac to add a third set of hands.
Regardless, we got the tent up.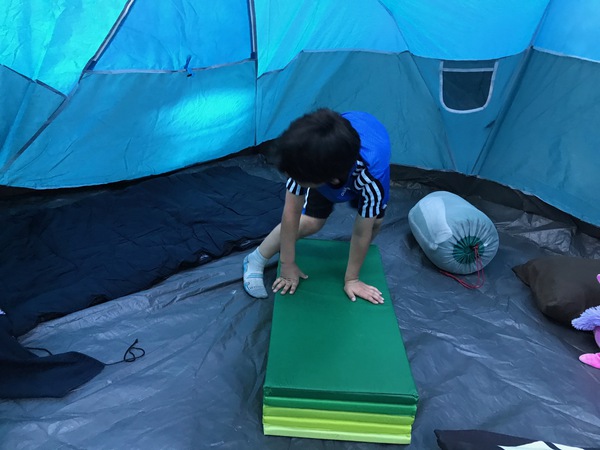 Isaac setting up the sleeping arrangements.
Some things have changed. It was just me and the kids so I was able to wing the food pretty easily. I mainly just needed to ensure enough calories to keep everyone happy and not worry too much about anything else.
It's not that I would have done more work around food if Hillary was going as well, but she tended to pack far more of it than I would. I'd also always like to make something tasty for her as well when we were out. Not fancy, but tasty.
When we got there, I also realized that I never even looked at what kind of facilities there was. Turns out, it was pit toilets alone and no showers were available. Again, this was a thing that would have been a hard turn off for Hillary and we likely would have never picked this campground for a trip with the four of us.
Still, it was the start to Mother's Day weekend and seeing all the families at the park that were clearly there for the next few days was really hard.
I took them on a hike on Saturday morning on a short bit of the Trans Canada Trail, a part I rode on during the Ride for Water. We then did some off trailing and climbed over logs and jumped over some creeks. It was a pretty tricky little bit of hiking, but both kids enjoyed it thoroughly. As we walked over a log over a small creek, Isaac asked, "Mommy wouldn't like this part of the hike, would she?"
"Possibly not, but mostly because she'd be worried about one of you guys getting stuck."
It occurred to me while we were packing up that it had been nearly a year since I took Paige camping alone. The last camping trip the three of us had taken was in August of 2017 when we went to Hicks Lake, so it was coming up on two years since Isaac had gone last. I guess it says something that they are still so excited to go and are already asking when we can go again.