Saturday, 02 March 2019
The decision to ride our bikes across Canada wasn't a hard one to make. There wasn't even a ton of back history to it. I knew of people who had done it, but they always seemed like super serious cyclists. It seemed like an almost super-human accomplishment.
Then a couple of people I knew via about two degrees of separation, rode their bikes across the country. They weren't super serious cyclists. I mean, don't get me wrong, they knew how to ride a bike, but I remember thinking that I was probably fitter than they.
To use a running analogy, I think I thought I was someone who would do an occasional 10k race, but to go across the country, you needed to be an ultramarathoner. It turned out that wasn't really the case. You just needed to be able to do that 10k every day.
So, I talked to them. I don't recall who else was there, but I remember explicitly inviting them out for dinner and drinks and asking lots of questions and listening to their stories of how they did it. Suddenly this seemed feasible.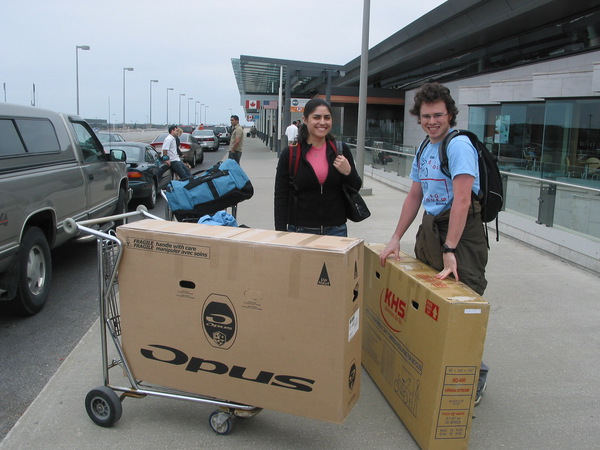 At the airport in Ottawa, packed and ready to go.
I vaguely remember a few conversations with Hillary about these people's ride. My tone would have been a combination of impressed and a touch wistful. At that point, I was convinced it was feasible, but never really thought I could figure out how to do it. When it would occasionally come up, I would talk about it in the same way I would about many of my long term dreams.
This was still early in our relationship, but the shape of how we would handle dreams and goals was beginning to form. I'd pitch crazy long term ideas and she'd filter out the clearly impractical ones and we'd fantasize about the others.
Then one time, she said, very seriously, "I think we should do this."
"Ride across Canada?"
"Yes. Like in the next two or three years."
The tone of our conversations about the ride changed. We had one more talk about it a couple of weeks later. This time it was a serious one. That conversation was the one where it went from a theoretical dream to a year long todo list of where we needed to be to do this.
We waited to do some things. Those things will never now be memories of things that I did with Hillary. My dreams are a mess. But this one we did early and we did it together.
**Edit, May 7, 2019: ** Both Hillary and I wrote during the ride. My posts can be found here, check out the Table of Contents up in the top right. Hillary's can be found here.