Friday, 28 December 2018
In terms of transportation, there were three big selling points to Carina Place. It was a 12 minute walk to a skytrain station. There were multiple grocery stores within a 5 minute drive. We both had a safe and easy commute to work by bike.
Hillary's route was effectively the Central Valley Greenway through Burnaby. She'd ride down a connecting trail to Winston, then take that to the pedestrian/bike overpass at Winston and Lougheed. From there, the CVG went on gravel for a couple of kilometres.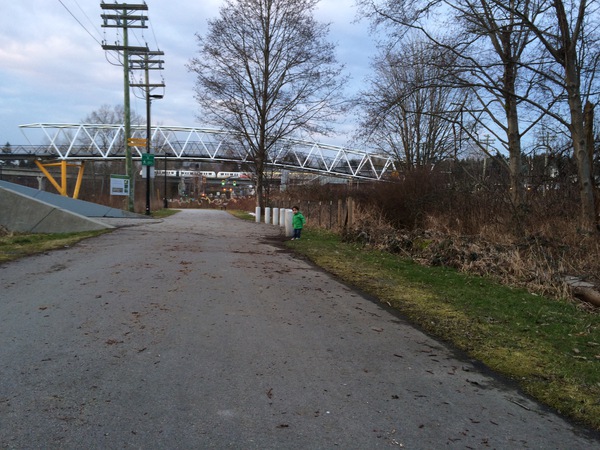 It loops under the bridge and then turns to gravel. The call came from about 400m that way.
Then a left turn up Douglas Road for a bit and then into some quiet residential streets for the last little bit. The total ride was somewhere between 9 and 10 km and generally took her about a half hour.
So once upon a time I got a phone call about 15 minutes after Hillary had left home. This was probably mid 2011. Though it easily could have been summer of 2013 after she'd returned to work following her maternity leave with Isaac. It was definitely somewhere between May and September though.
Anyway, I got the call. I was immediately concerned when I saw her name come up on my phone. I figured she had gotten a flat or something. I answered.
"Hello?"
"Hi. I, uh, just needed to make sure I was on the phone with someone."
"Okay, where are you?"
"I'm okay right now but I'm on the gravel trail now."
"What's up?" I am getting worried here, she's not panicked or anything, but she's definitely nervous about something.
"Okay, I'm going to ride and we'll just talk."
"WHAT IS HAPPENING."
"I saw a couple of coyotes trotting up the trail. I wanted to make sure that I was talking and that you'd know if something happened."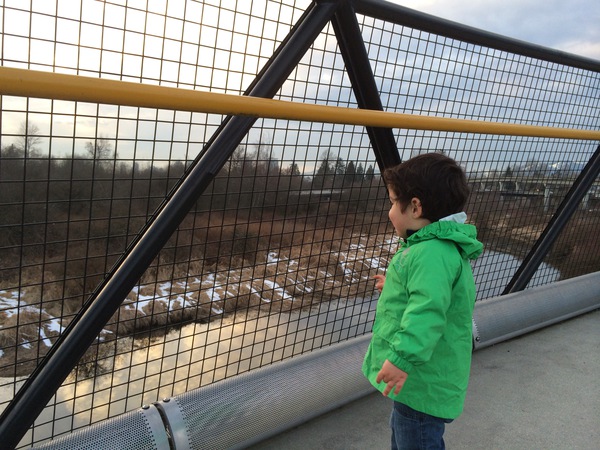 Isaac looking down from the bridge onto Still Creek. This is where the otters were that you might have seen on the news recently. Hillary would have been beside herself with joy to know that seeing them was even a possibility on her commute. Let alone them frolicking on the trail.
She couldn't still see them, they had wandered into the bushes. It was a pair of them and talking later, there was a definite chance that it was a juvenile and a parent. She would have been on her bike and far, far larger than them. But still, they were wild animals and Hillary was taking precautions.
This was the safety conscious Donald part of her upbringing I think. Or the farm. Or both.
I'd occasionally bring this up if we could hear the local coyotes yipping and howling in the evening. She was never embarrassed by it. It was the right call as far as she was concerned. In hindsight, her reaction the time we saw the lynx shouldn't have surprised me.